The Industry Leader
WatchGuard Video is the leading provider of mobile video solutions for law enforcement, having supplied in-car video systems and body-worn cameras along with evidence management software to approximately one-third of all law enforcement agencies in the United States and Canada. WatchGuard has been recognized as the worldwide market share leader in mobile video in the bi-annual market research reports published by IHS Markit in 2012, 2014 and again in 2016*. The company is a seven-time winner of the Dallas 100 award honoring the fastest-growing, privately held businesses in the Dallas area. In addition, WatchGuard was included on the Inc. 5000 list of fastest growing private American companies in 2015, 2016, 2017, 2018, and 2019.
Manufactured in the USA
The company manufactures its products in-house from its 140,000-square-foot, two-story world headquarters in Allen, Texas. The facility accommodates 500 employees and all departmental work areas, including a 43,000-square-foot sophisticated manufacturing facility where all of WatchGuard's products are assembled.
WatchGuard V300 Body-Worn Camera
Unstoppable you.
WatchGuard V300 continuous-operation body-worn cameras remain operational beyond a 12-hr shift. Detachable battery. 128GB of storage space. Wireless uploading. First shift. Second shift. Overtime. No problem. Together, you're unstoppable.
Protect your community. Protect your livelihood.
In a world full of cellphones and connected video devices, sometimes the only reliable witness to an incident is one you carry with you each day. Make sure it's always ready. The WatchGuard V300 continuous operation body-worn camera remains operational well beyond a 12-hour shift, capturing crystal clear video and audio of every encounter from the perspective that matters most.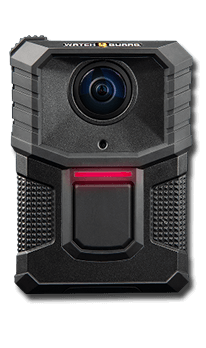 Key Features
Detachable Battery
Easily change the V300's rechargeable battery while on the go. Officers can keep an extra battery at the ready for unexpectedly long shifts, extra shifts or part-time jobs where a body-worn camera is required.
Automatic Wireless Uploading
Send critical video back to headquarters while still in the field. When docked in the car, the V300 body camera uploads to cloud-based or on-premise evidence management systems via wireless networks like LTE and FirstNet, anytime, anywhere.
Integrated with In-Car System
One or more V300 body cameras and a 4RE in-car system can work seamlessly as a single system, capturing synchronized video of an incident from multiple vantage points.
Natural Field of View
Eliminate the fisheye effect from wide-angle lenses that warps video footage. Our distortion correction technology provides a clear and complete evidence review process.
Absolute Encryption
Elevate your data security with encryption at rest and in transit technology. V300 guards your data and your reputation.
Record-After-The-Fact
Go back in time and capture video from events days after they happened, even when a recording wasn't automatically triggered or initiated by the officer. Don't rely on mere seconds of pre-event buffering to prove your case.
Bring Actionable Intelligence Through License Plate Recognition
Data may be one of the most powerful tools in our public safety arsenal. But without the right technology to make sense of it, data alone is often overwhelming and of limited use. For officers, this is especially daunting. The need for automation and acting on intelligence is more apparent now than ever. The WatchGuard 4RE Mobile ALPR Solution uses vehicle license plate detection and a national database of 10+ billion plate detections to provide real-time, in-vehicle actionable intelligence. This increases patrol officer safety, proactively interrupts crimes, and delivers more leads.
LEARN advanced analytics is the backbone of the 4RE ALPR solution. All plate information captured is streamlined to help turn routine data into actionable intelligence when the nexus to criminal activity is revealed. By producing a common plate analysis of crime patterns, identifying potential associates of known vehicles associated with criminal activity, or locating identified vehicles of interest based on area, your team can respond safer and more efficiently
Features
1280x720 HD Rotatable Turret Camera
Evidence Library 4 Web
LEARN Investigative Suite
Panoramic X2, Zero Sightline Or Mini Zoom Camera
CarDetector Software
Cellular Network Connection
The complete solutions require the WatchGuard Panoramic X2, Zero Sightline or Mini Zoom Camera, 4RE in-car system, WatchGuard CarDetector Mobile (CDM) software, Vigilant LEARN database annual subscription and cellular connection to the cloud.
V300 Body-Worn Camera
At #IACP2019, Motorola Solutions introduced the @WatchGuard Video V300 body-worn camera, the first in law enforcement to address the need for cameras that last beyond a 12-hour shift. Discover the innovative features of our the V300 Body-Worn Camera.
WatchGuard 4RE Mobile ALPR Plate Detection
The WatchGuard 4RE Mobile ALPR solution harnesses the power of the industry-leading WatchGuard 4RE in-car video system and high-definition cameras to detect and match vehicle license plates of interest stored in a database of over 20 billion detections.
Solution Briefs
Spec Sheets